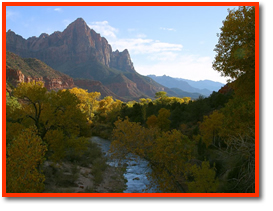 Zion National Park welcomes almost three million visitors each year who come to enjoy the stunning landscapes and towering red rock cliffs. The first inhabitants of Zion National Park were the Anazasi and later the Paiute Native Americans. The first white settlers to the area were Mormon Pioneers. These settlers gave Zion canyons and formations bible names. Zion itself is an ancient Hebrew word that stands for place of peace and refuge. As you visit the immense canyons of the beautifully sculptured rock formations, soaring cliffs and breathtaking landscapes you will agree that Zion National Park certainly lives up to its name.

Zion National Park was first established in 1909 as Mukutuweap National Monument and was later expanded to its present day size of 229 square miles and renamed. Zion provides endless opportunities for enjoying and exploring nature. Zion is well known for its incredible rock formations and is home to Kolob Arch, which is the largest arch in the worlds spaning 310 ft. Zion is also famous for its deep slot canyons. One of these canyons, The Narrows, attracts hikers from all around the world. Zion National Park is located at the junction of the Colorado Plateau, Great Basin and Mojave Desert. This unique geography provides Zion with an unusual diversity of plant and animal life.

Quick Facts:

Size: 229 square miles
Lowest Elevation: 3,666 ft., Coal Pits Wash in the southwest corner
Highest Elevation: 8,726 ft., Horse Ranch Mountain in the Kolob Canyons section
Visitation: In 1920: 3,692; in 1996: 2.5 million

Weather:

Spring weather is an unpredictable combination of wet, stormy days and warm sunny ones. Spring wildflowers bloom from April to June.

Summer days are hot with temperatures varying between 95-110 F. At night it cools down to 65-75 F. Afternoon thunderstorms are common from mid-July through September, producing waterfalls and causing flash floods.

Autumn is usually clear and mild. Autumn color displays begin in September and peak in late October.

Winter weather is fairly mild. Temperatures range between 40-60 F during the day and 20-30 F at night. Storms bring rain or snow and sometimes cause the roads to be icy.